About Our Blue Ribbon Maintenance Plan
You have probably heard, "An ounce of preventions is worth a pound of cure," yet many fail to realize that such warnings also apply to our heating and cooling systems. Regular HVAC maintenance can help prevent costly repairs and system failures, which often occur at the absolute worst possible time.
A poorly maintained HVAC unit not only incurs preventable wear-and-tear but also lacks the necessary power when it comes to efficiency. The result is higher energy bills because your system must work harder to control the temperature.
The good news is, even if you neglected your HVAC equipment for years, a regular HVAC maintenance program, in many cases, will restore the system so that it lasts longer and runs more efficiently.
Replacing the heating and cooling system in your home can be an unplanned investment that you didn't foresee. Our Blue Ribbon maintenance plan will ensure that you know what condition your system is in, keep you from paying more than necessary on your utilities, and protect your equipment to keep it running longer!
At Western, we do everything possible to keep our customers happy and informed! We want to be as important to you as you are to us! Give us a call with more questions on how to become one of our VIP Blue Ribbon customers or take steps towards replacement.
Our Blue Ribbon program gives our preferred customers priority heating, air conditioning, and water heater service at a discounted rate, with regularly scheduled maintenance for worry-free indoor home comfort. All Blue Ribbon members will receive two regularly scheduled maintenance calls per calendar year.
Members requiring service other than regular maintenance will receive priority treatment over nonmember customers. Members also receive up to a 15 percent discount on all repairs needed for calls other than general service calls. Best of all, member satisfaction is guaranteed.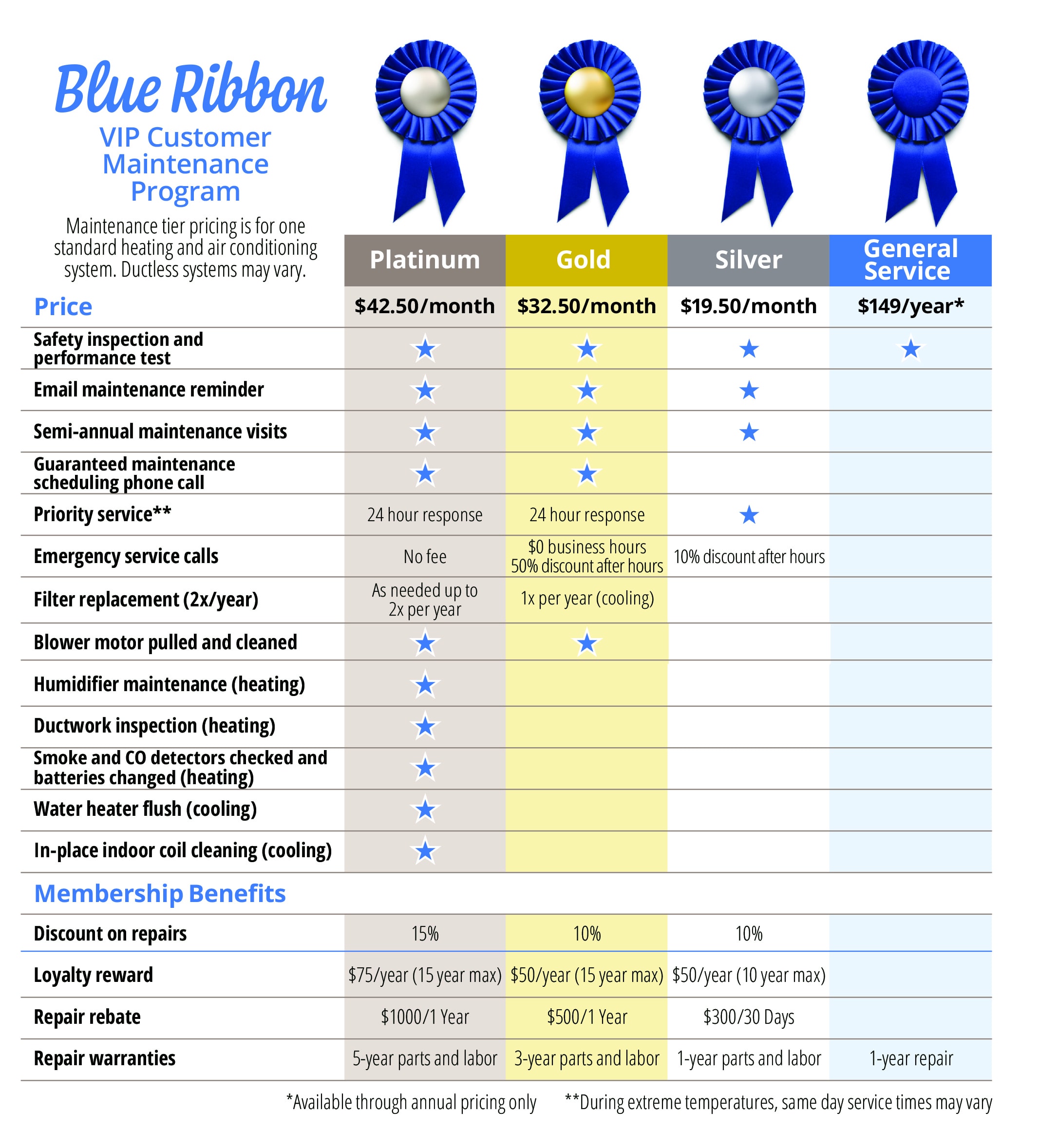 Furnace Maintenance:
Inspect air filters
Clean burners
Inspect heat exchanger
Clean pilot/flame sensor
Inspect hot surface ignitor
Inspect burner operation
Inspect fan/limit operation
Inspect thermostat & connection to unit
Check for proper voltages
Inspect wires and wire ends to ensure they are not loose or burnt
Check amp draw on elements, motors, and compressors
Inspect file pipes and gas piping
Check temperature rise across heat exchanger
Inspect belts and pulleys
Inspect condensate pumps and drains
Air Conditioner Maintenance:
Inspect air filters
Clean oil condenser
Inspect thermostat and connection to unit
Check for proper voltages
Inspect wires and wire ends to ensure they are not loose or burnt
Check amp draw on elements, motors, and compressors
Inspect belts and pulleys
Inspect condensate pumps and drains
Inspect and clean condenser coil
Inspect evaporator coils
Check temperature drop on coils
Inspect unit for proper refrigerant level
Clean debris from inside of
Water Heater Maintenance:
Flush and fill tank
Inspect tank, fittings, and water flexes for leaks
Clean burner assembly and check gas supply
Inspect thermocouple
Inspect piezo ignitor
Check pressure on expansion tank
Inspect vent pipe integrity and clearances
Inspect for proper vent drafting/combustion air
For Ductless Applications:
We recommend the Silver Membership for Ductless Systems. That membership covers two services per year on one indoor and one outdoor ductless unit, additional indoor units are $150 annually. General Services include on indoor and one outdoor unit, $89 per additional indoor unit
Notes
Loyalty Reward: This is a cumulative benefit that can be used for new equipment purchases
Repair Rebate: A specified amount, spent on repairs during a specified time period may be credited towards the purchase of replacement equipment.
Repair Warranties: Any repairs completed are covered for the indicated time period under parts & labor warranty. Customer must be on membership at the time of original repair, at the time of warranty repair, and may not lapse on their membership between the two repairs.
During times of extreme weather a 24 hour response time may not be possible, in this event Platinum and Gold Members will be given the highest priority possible
Join Our Blue Ribbon Maintenance Program!
Request More Information for Sign Up Today!