Join Our Blue Ribbon Maintenance Program!
Sign Up for Yearly Blue Ribbon Service
The initial system (one gas furnace and one air conditioner, for example) is $198 per year, with each added system costing $188 per year. You may pay upfront using the form below, or you may have your card billed in 12 monthly payments.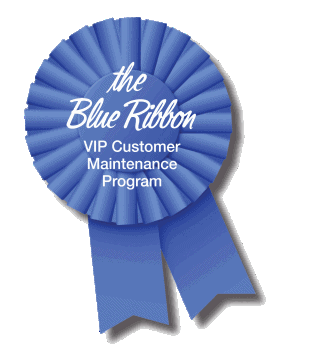 Sign Up for Monthly Blue Ribbon Service
You may sign up for monthly payments. The initial system (one gas furnace and one air conditioner, for example) is $16.50 per month for 12 months, with each added system costing $15.75 per month. You may pay in 12 monthly increments with the form below, or you may bill the entire amount upfront.
About Our Blue Ribbon Maintenance Plan
You have probably heard, "An ounce of preventions is worth a pound of cure," yet many fail to realize that such warnings also apply to our heating and cooling systems. Regular HVAC maintenance can help prevent costly repairs and system failures, which often occur at the absolute worst possible time.
A poorly maintained HVAC unit not only incurs preventable wear-and-tear but also lacks the necessary power when it comes to efficiency. The result is higher energy bills because your system must work harder to control the temperature.
The good news is, even if you neglected your HVAC equipment for years, a regular HVAC maintenance program, in many cases, will restore the system so that it lasts longer and runs more efficiently.
Replacing the heating and cooling system in your home can be an unplanned investment that you didn't foresee. Our Blue Ribbon maintenance plan will ensure that you know what condition your system is in, keep you from paying more than necessary on your utilities, and protect your equipment to keep it running longer!
At Western, we do everything possible to keep our customers happy and informed! We want to be as important to you as you are to us! Give us a call with more questions on how to become one of our VIP Blue Ribbon customers or take steps towards replacement.
Our Blue Ribbon program gives our preferred customers priority heating, air conditioning, and water heater service at a discounted rate, with regularly scheduled maintenance for worry-free indoor home comfort. All Blue Ribbon members will receive two regularly scheduled maintenance calls per calendar year.
Members requiring service other than regular maintenance will receive priority treatment over nonmember customers. Members also receive a 15 percent discount on all repairs needed for calls other than general service calls. Best of all, member satisfaction is guaranteed.
Enjoy a 15 percent discount on all repairs.
Emergency after-hours heating and air conditioning repair, seven days per week, at a discounted rate!
Less waiting. Blue Ribbon members receive priority treatment with HVAC service and repair calls.
Precision tune-ups and professional cleanings included at no extra charge (when done during regular business hours).
Our planned maintenance procedure will return your home comfort system—as close as possible—to its original manufactured conditions.
Equipment Equity Bonus. For every consecutive year that you stay enrolled in our Blue Ribbon maintenance program, you will accrue $50 to put towards the purchase of a new system, when the time comes, up to $500. Certain restrictions apply.
Regularly servicing your equipment extends the life of your heating and air conditioning systems.
Regular maintenance reduces breakdowns and maintains the efficient operation of your heating and air conditioning systems.
Clean furnace filters and coils mean cleaner, healthier air—with fewer bacteria and germs in the air you breathe, reducing your chance of illness.
Clean, efficient HVAC equipment saves you money and gives you peace of mind.
Request More Information or Sign Up Today!