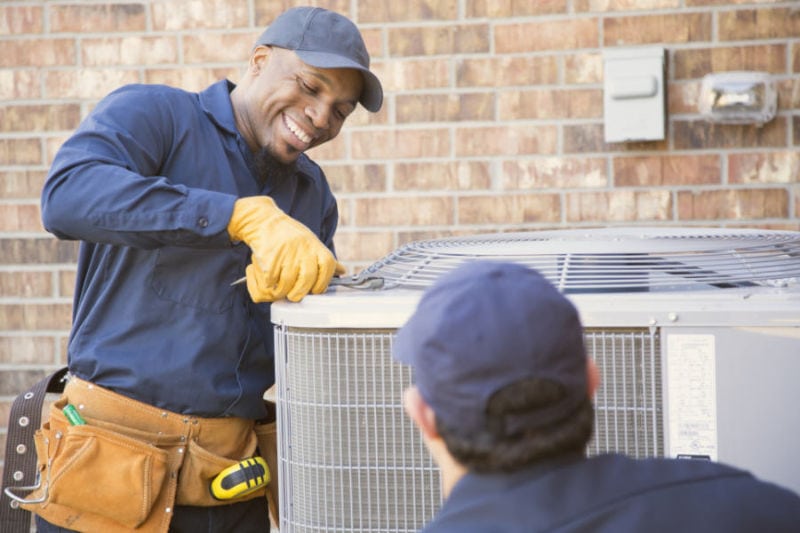 Retrofit or replace?
Selecting one of these options will improve your aging air conditioner's efficiency and reduce electricity bills during the upcoming cooling season here in Idaho.
If you installed a central air conditioner before 2010, it likely uses a refrigerant called R-22. The United States no longer allows the production or importation of this refrigerant. HVAC manufacturers began using an alternative refrigerant, R-410A, in residential cooling systems more than a decade ago.
Western Heating & Air Conditioning can retrofit your current air conditioner to work with R-410A or replace it with a new, high-efficiency unit. We have over 50 years of experience in the heating, ventilation, and air conditioning (HVAC) industry and can offer you a home cooling solution that suits your budget and comfort needs.
What's Wrong With R-22?
The U.S. Environmental Protection Agency (EPA) phased out the production and importation of R-22 in 2020 because the substance is a hydrochlorofluorocarbon (HCFC) that damages the ozone layer. That means its supply is limited because only stockpiled or reclaimed R-22 is allowed for use in air conditioning units.
R-22 can be costly to replace if it leaks from your cooling system. Retrofitting or upgrading the air conditioner in your Boise home now will save money in the long run. You can save even more money by purchasing a new Carrier cooling system through May 7 from Western Heating & Air Conditioning. Get up to $2,000 in rebates using Carrier Cool Cash and a five percent Western System Savings discount.
Check your equipment manual for information about the refrigerant your system uses. Or ask one of our expert technicians at Western Heating & Air Conditioning to identify the refrigerant.
Your annual cooling system tune-up is a perfect time to talk with us about its refrigerant needs. We can diagnose potential problems and identify any repairs your air conditioner needs during a preventative maintenance visit. The information will help you decide if you should keep, retrofit, or replace your older system. Your cooling system's age should figure into your decision.
How Long Do Air Conditioners Last?
The average service life of central air conditioning is 10 to 15 years, although a new, high-efficiency model can last beyond 20 years. Its lifespan depends on several factors, including preventative maintenance, correct sizing and installation, climate, and user preferences.
Increasing electricity bills, frequent repairs, and uneven cooling throughout your Boise home are a few signs indicating it is time to replace your air conditioner.
Refrigerant Phasedown
If you replace your aging air conditioner this year, your new equipment will contain R-410A, an alternative to R-22 refrigerant. This refrigerant is a hydrofluorocarbon (HFC) that does not deplete the ozone like R-22 but has high global warming potential (GWP).
For that reason, the EPA is phasing down R-410A. The process begins this year with a 10 percent reduction in production. By 2036 production will be down 85 percent.
Should you shy away from buying a new air conditioner this year? Not at all. R-410A is not banned like R-22 is, and its production has not stopped. It will continue to be available for recharge or system repairs even as production decreases.
Rest assured that if you buy a new air conditioner this year and it needs repairs or a refrigerant recharge in the future, Western Heating & Air Conditioning has your back. We will have access to R-410A for years to come.
Another Change
In the meantime, manufacturers are transitioning to EPA-approved and environment-friendly A2L refrigerants as an alternative to R-410A. Carrier, for example, says it will use R-454B, an A2L refrigerant, in new central air conditioners beginning in 2023. These refrigerants are efficient, have low global warming potential, and do not hurt the ozone but are mildly flammable.
Why wait for another refrigerant change when you can install a new cooling system now? If your old air conditioner uses outdated R-22 refrigerant, take steps to upgrade today. ENERGY STAR® says you can save up to 20 percent on cooling costs if you install a high-efficiency air conditioner that has earned the ENERGY STAR label.
Call the Cooling Experts
Get ready for improved comfort in your Boise, ID, home this summer. Let Western Heating & Air Conditioning upgrade your cooling system. Call us at (208) 319-1736 or request service online.